Make Titanic Memorial Lighthouse a Historical Landmark
Make Titanic Memorial Lighthouse a Historical Landmark
Started
September 28, 2020
Petition to
President, South Street Seaport Museum Capt. Jonathan Boulware
and
Signatures: 21,809
Next Goal: 25,000
Why this petition matters
*** UPDATE ***
After a 4-year campaign by descendants, Titanic Memorial Lighthouse is to be restored ending 52 years of neglect. Now, over twenty Titanic family call on the Seaport Museum to hear our claims:
1. Record all 1,496 victim's names on a memorial plaque.
Museum President Captain J. Boulware publicly rejects calls for recording the names of the 1,496 passengers and crew who perished. We remember the citizens of 28 nations travelling to start a new life in America—for so many it ended in tragedy. 
2. Allow descendants to file Titanic Lighthouse in the National Register.
Our application for National Register listing sponsored by Helen Benziger, great-granddaughter of Margaret "Unsinkable" Brown, was denied by the Seaport Museum Board. We call for individual landmarking of the world's first Titanic memorial to the victims, and New York's forgotten Immigrant Memorial.
3. Include descendants in the restoration planning.
For descendants of those who perished, this Memorial is a sacred place. Plans for restoration, interpretation, and rededication services do not include family voices. Like the 9/11 Memorial, descendants of those in whose name it was raised must rightly be heard.
4. Return Titanic Lighthouse to Pier 16 riverside location.
The USCG official lighthouse for the Port of the city of New York—and once America's tallest—history and function demand it return to its former East River location. Titanic Lighthouse will be the historic anchor of a new Maritime Mile Resiliency Plan.
5. Support building a new light tower, a Beacon of Hope for New York City.
After restoration, then what? An unrealized opportunity stands on our doorstep to raise a new Beacon of Hope tower telling the story of Titanic's construction, sinking and her immigrant passenger story.
We here petition:
Capt. Jonathan Boulware, President, Seaport Museum.
Christiana Huus, Chair, Seaport Museum Board.
Sarah Carroll, Commissioner, Landmarks Preservation Commission (LPC)
Laurie Cumbo, Board Member, Commissioner NYC Department of Cultural Affairs.
Michael Devonshire, Director of Conservation, Jan Hird Pokorny.
*** PLEASE SIGN OUR PETITION - THANK YOU FOR YOUR SUPPORT ***
We will include all names in the historical record for submission with the landmarking application.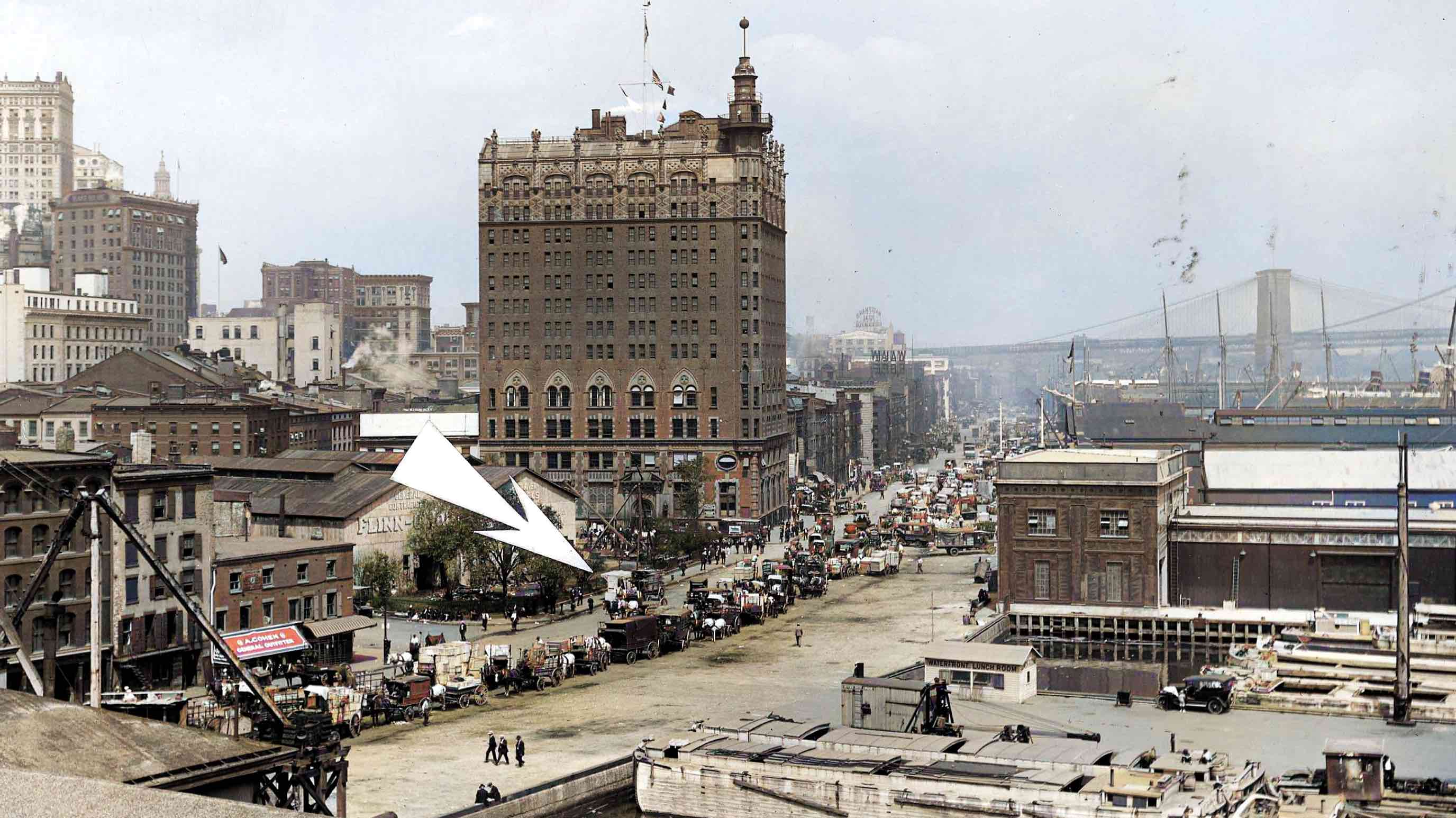 HISTORY
Titanic Memorial Lighthouse was the world's first monument to the 1,496 victims who perished when RMS Titanic sank on April 15, 1912. Designed by Warren & Wetmore, architects of New York's Grand Central Terminal, the lighthouse stood over the East River waterfront from atop the 12-story Seamen's Church Institute.
Not only a memorial to the dead, this lighthouse saved lives. Its 'time ball' dropped exactly at noon daily for captains and pilots to set their ship's chronometers. (Since time equals longitude, setting longitude and latitude against time ensured safe and accurate navigation).
For 54 years its fixed green light shone over New York harbor, visible ten miles out at sea helping guide ships into port. This led the U.S. Coast Guard to designate this nine-ton copper lighthouse an official guide to navigation.
Though lighthouses are by design 'land marks' the Titanic Lighthouse is not a designated US National Landmark. Listing in the National Register of Historic Places is the first step in the nomination process.
We're honored to have support from New York Congressman Jerrold Nadler and New York State Senator Brian Kavanagh.
Advocates for nomination include descendants of Margaret Tobin Brown, J. Bruce Ismay, Helmsman Robert Hichens, the Peracchio brothers, Major Archibald Butt, Deck Engineer Thomas Millar, along with the Titanic International Society, the British Titanic Society, the Belfast Titanic Society, and the Titanic Historical Society.
The light-tower which currently stands in the Seaport District is in urgent need of refurbishment—it has been lying unlit and unloved since 1976!
Restored with its 100% original 1913 features, its 'time-ball' will be the only working one in the US; its green lantern will be the only working lighthouse in Manhattan; the names of the deceased will at last be recorded.
ABOUT
Friends of Titanic Memorial Lighthouse is a nonprofit group of descendants dedicated to saving the world's first Titanic memorial.
On the 111th Anniversary at Titanic Memorial our honored guest was Commissioner Manuel Castro, Mayor's Office Immigrant Affairs who spoke to the crowd about the history of immigration, a steady thread among Titanic passengers, citizens of 28 nations. 
The British Consulate in New York placed a wreath, and Paul Schipul remembered the many British victims. Our hosts, Titanic The Exhibition generously supported the ceremony; Luis Ferreiro, its President & CEO, led the group to Pier 16 where descendants placed a wreath of remembrance in the East River.
We were truly honored to receive a letter of support from Princess Elettra Marconi Giovanelli:
"I am present with all my heart to this beautiful commemoration in memory of my father Guglielmo Marconi, whose wireless on board of TITANIC saved 723 human lives and I'm joining you in your prayers." — Principessa Elettra Marconi Giovanelli
Friends of Titanic Memorial Lighthouse started this petition. 'Honor the brave who sleep where the lost Titanic lies' is our pledge.
Discover more: titaniclighthouse.org
Instagram: @savetitaniclighthouse
Facebook: @titaniclighthouse
Twitter: @TitanicNewYork
Press: New York Times
Email us: hello@titaniclighthouse.org
Privacy Policy: FOTLR is committed to protecting your privacy. We do not collect or share your email address, IP address, or other personal information.
Signatures: 21,809
Next Goal: 25,000
---
---