Reinstate Mandatory Masking at the University of Waterloo
Reinstate Mandatory Masking at the University of Waterloo
Signatures: 416
Next Goal: 500
Why this petition matters
The University of Waterloo maintains its mask-friendly policy despite the continued spread of COVID-19 in Ontario and the Region of Waterloo. The administration will only implement a mask mandate if it is deemed necessary. This policy is not proactive in preventing the spread of an airborne virus on our campus and fails to protect the immunocompromised and those most at risk of severe disease. The University of Waterloo should freely provide KN95/N95s and require at least ASTM Level 3 masks indoors as an equity measure to protect all students, staff, faculty, visitors, and the broader Region of Waterloo community from SARS-CoV-2 infection.
The COVID-19 wastewater signal in Ontario and the Region of Waterloo remains high, and experts expect it to increase as gatherings move indoors and new variants emerge. Masking is simple and highly effective at preventing the spread of COVID-19. A proactive, layered approach that includes mask mandates, vaccination requirements, and practical access to testing is associated with a lower risk of SARS-CoV-2 infection in schools [1]. Strongly encouraging mask wearing is not enough to reduce the transmission of a highly contagious virus that continues to cause death in our community, puts vulnerable students, staff, and faculty at risk, and can have long-term cardiovascular and neurological health effects [2]. 
Several institutions in North America have recognized the disruption that SARS-CoV-2 infection can have and the need to mandate protection measures proactively. Wilfrid Laurier University, Brock University, University of Windsor, OCAD University, Ontario Tech University, Western University, Seneca College, Huron University College, University of Manitoba, Dalhousie University, University of New Brunswick, Yale, and Stanford have each implemented a mask mandate for the fall. Western University, UC Berkeley, Stanford, Caltech, MIT, Harvard, and Yale have mandated booster doses. The University of Waterloo's current messaging (see image below) puts everyone on our campus at risk of SARS-CoV-2 infection this fall.
Let's make the University of Waterloo a more equitable and inclusive campus for everyone.
We, the undersigned, call on President Goel and the University of Waterloo administration to please mandate high-quality masks at our institution this fall to protect students, faculty, staff, and the community.
References:
Kuhfeldt, K., Turcinovic, J., Sullivan, M., Landaverde, L., Doucette-Stamm, L., Hamer, D. H., Platt, J. T., Klapperich, C., Landsberg, H. E., & Connor, J. H. (2022). Examination of SARS-CoV-2 In-Class Transmission at a Large Urban University With Public Health Mandates Using Epidemiological and Genomic Methodology. JAMA Network Open, 5(8), e2225430. https://doi.org/10.1001/jamanetworkopen.2022.25430
Taquet, M., Sillett, R., Zhu, L., Mendel, J., Camplisson, I., Dercon, Q., & Harrison, P. J. (2022). Neurological and psychiatric risk trajectories after SARS-CoV-2 infection: an analysis of 2-year retrospective cohort studies including 1 284 437 patients. The Lancet Psychiatry. https://doi.org/10.1016/S2215-0366(22)00260-7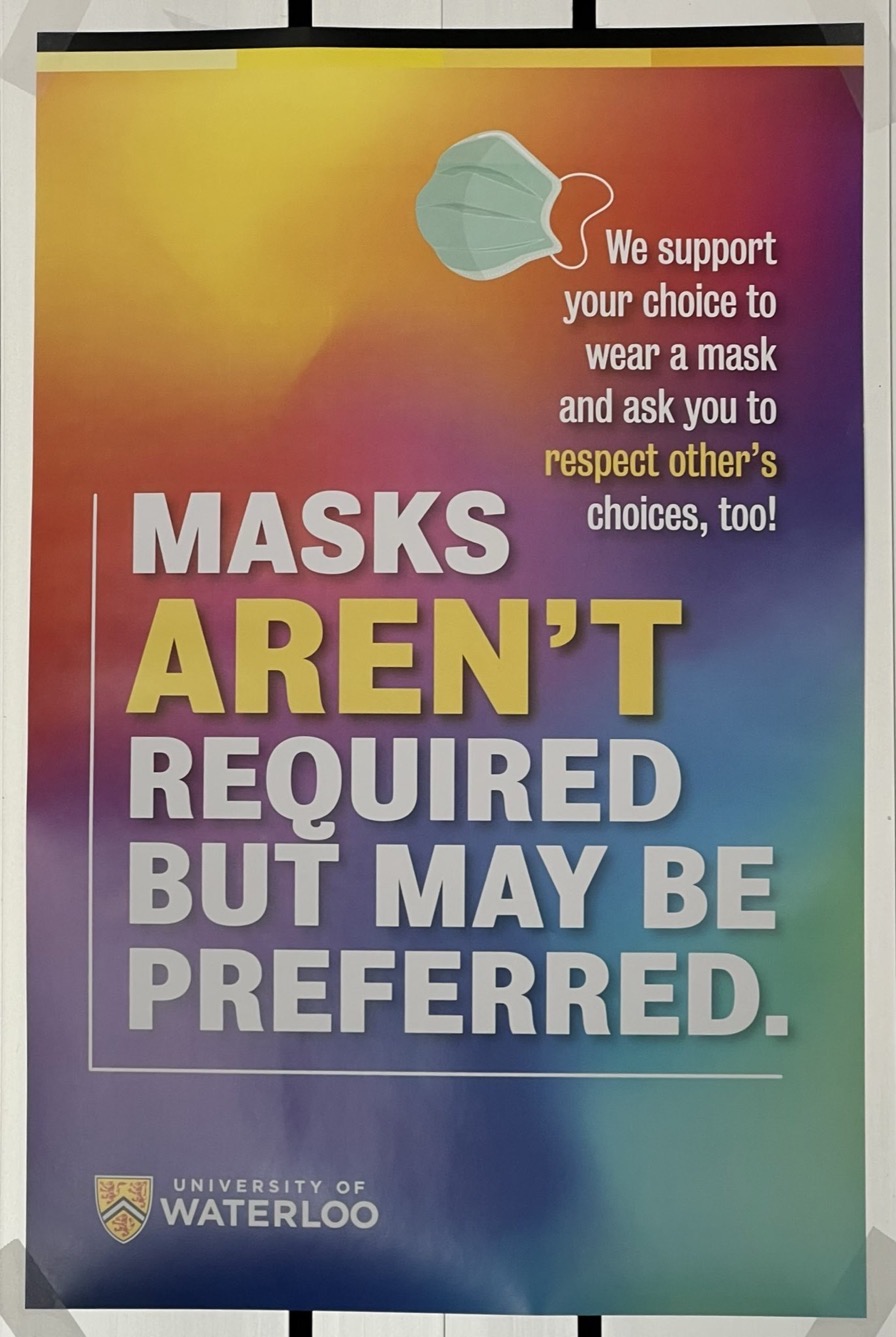 **Please DO NOT donate money to this petition**
Signatures: 416
Next Goal: 500
---
---