Parents Demand the resignation of Board Members Andrade, Gorcsos, Hill, and Scheuermann
Parents Demand the resignation of Board Members Andrade, Gorcsos, Hill, and Scheuermann
Petition to
Dr. Commissioner Betty A. Rosa
This petition made change with 872 supporters!
Why this petition matters
We are demanding the immediate resignation of FUFSD School Board members Lori Gorcsos, Leslie Hill, Rob Andrade, and Robert Scheuermann who are affiliated with the hate group Moms for Liberty. These individuals permitted their Superintendent, Mr. Larry Leaven, to be relentlessly harassed by Moms for Liberty members without once trying to intervene. 
Board member Lori Gorscous (Lori Gee) is a member of Orange County Moms for Liberty.
Board member Leslie Hill is a member of Orange Coubty Moms for Liberty
Board member Rob Scheuermann is married to a member of Orange County Moms for Liberty
Rob Andrade's campaign for school board was entirely funded by members of Moms for Liberty. 
At this moment, these same individuals are celebrating the loss of this beloved administrator, several of whom are members of Moms for Liberty, Orange County NY. On their official M4L page they openly threaten another board member, Mr. John T. Redman.
Regardless of Mr. Leaven's attempts to respond rationally to accusations, this group of parents refused to listen to reason and doubled down on their bigoted, hateful, and biased statements.
Below are just a few examples:
They baselessly claimed that Mr. Leaven played favorites when hiring, working through a 'pay to play' system.
THE TRUTH 
The professional development contracts were standard contracts reviewed and approved UNANIMOUSLY by the board of ed--models used across the state and country--and followed standard NYSED expectations.
One mother accused him of "harassing her five year old" when the child was required, along with every other child in the school system, to wear a mask under the NYS mask mandate.  
THE TRUTH
This particular Moms for Liberty Member's daughter was suspended for not wearing a mask in school during a statewide mask mandate that school officials, including Mr. Leaven, were required to uphold. This child returned to school after her mother permitted her to continue wearing her mask.
Regarding Mr Leaven's "disdain" for "white Christians"; while there is a mountain of social media posts, memes, and verbal and written attacks against him, there is not a single shred of evidence that he had ever behaved in anything other than a most professional manner at all times.
There was not a shred of truth, not the smallest grain of evidence to any statement that they made, yet they continued to post these lies on social media and spread rumors throughout the community. This small group has been able to shout down the majority of the community, and the school board members that they had backed during the election let Mr. Leaven go last week. 
We are devastated that this excellent administrator is gone, and furious that such an infantile and ludicrous group of people could have so easily created this kind of chaos in our community. The fact that Mr. Leaven had lost his husband earlier this year underscores the cruelty of these women who refused to let up even for a moment.
Below you will see only the harassment and attacks that have happened over the past four days, but imagine the damage done over a year. These attacks were printed on flyers and posted in the community, and reverberated in local media sources, clearly demonstrating what kind of vitriol they are willing to unleash on any educators or administrators who don't fall into their white/straight/Christian dynamic.
We hope that you will please sign this petition in support of the families in the Florida, NY school district who are suffering under the hysteria and madness of a handful of individuals given a soapbox in the form of "Moms for Liberty" to stand on and spew their hateful rhetoric without any kind of check by an incompetent and ineffective school board. 
This behavior has been echoed throughout our country and it is time to take a stand, to say enough, this won't happen - not on our watch.
Thank you for signing


Moms for Liberty - celebrates and takes credit for the loss of their superintendent, and threatens fellow Board member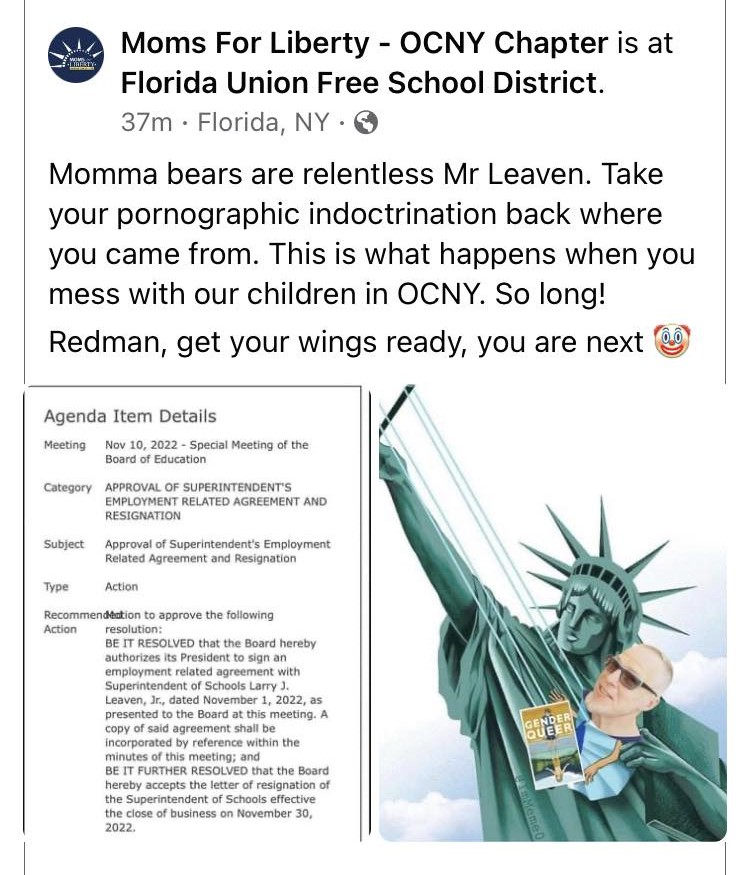 Victory

This petition made change with 872 supporters!
Share this petition
---
Decision Makers
---

Commissioner Betty A. Rosa

Dr.
---
---
---