Improve signage at Ala Wai Harbor Parking:Add ground labels to stalls: Permit, Pay or Rec.
Improve signage at Ala Wai Harbor Parking:Add ground labels to stalls: Permit, Pay or Rec.
0 have signed. Let's get to 200!
At 200 signatures, this petition is more likely to be featured in recommendations!
---
Petition: Improve Signage at Ala Wai Harbor Parking. For many years, on a daily basis, cars are towed from the Ala Wai Boat Harbor State of Hawai`i parking areas, especially the permit and recreational areas.
Most of the public parking in United States will issue a 'ticket' when the driver's car has: stayed too long, never paid, or parked in the wrong place. Often, this is a small fine of about $25.00 or $35.00 as a penalty for the parking violation.
Yet, at the Ala Wai Boat Harbor parking there is no 'ticketing' phase for a parking violations.
Instead, a parking violation usually results in the immediate towing of the vehicle. The tow drivers are allowed to tow without a ticket from the police, or a ticket from the Harbor staff.
The tow yard is located several miles away, adding a Taxi or Uber fare to recover the vehicle. The cost to pay the tow yard is about $175.00 in Hawaii. Due to the 'lucrative aspect of the tow work', the tow trucks are in the harbor area constantly, circling around the parking grounds. 
All vehicles parked at the Ala Wai Harbor are subject to tow and the existing signage is confusing. There is an 'inadequacy of notice' given to those who park a vehicle
The confusion is due to the faded signs, unclear verbiage, different adjacent parking zones with different rules, and faded stall lines. It is especially difficult to distinguish a white line from a yellow line on the pavement at night.
Yet, if someone accidentally parks between two yellow lines their vehicle will be towed. Parking in the stalls with yellow lines is only for boat owners, who have paid extra for a special monthly parking permit. 
We demand immediate new signage and better stall marking designed for clarity.  Even temporary signage, such as corrugated or laminated informational graphics is fine, as long as the signage clearly explains the reasons for towing. The signage can be improved and made more permanent at a later date.
For example in the recreational area the signs need to say: No parking 10:30 p.m. till 4:30 a.m., in BLACK lettering, with a white background, so it can be read at night.
This important detailed information can be placed on the current signs with a white 'bumper sticker' and black lettering. Another solution would be to install an additional sign, on the same pole as the current sign. We have designed two possible signs, one follows Honolulu City and County guidelines. We have attached the designs to the petition folder. 
Currently, in the recreational parking area, there are large signs but the message is vague. It says, 'no parking when parking is closed' but nothing about the parking lot 'physically closes at specific time'; there is no gate that closes. No chains or road barriers to mark the 'closing', nor is there a parking attendant to close the recreational parking. 
During the day a tow truck will drive through the harbor about once an hour looking for mid-parked vehicles.  At night they cycle through often, about twice an hour. At 10:30 p.m. there are often 10 tow trucks lined up to tow cars from the 'Recreational' parking area, near the 'Hilton Lagoon'.
There are a variety of 'signage' methods, used in conjunction with each other, that can create a comprehensive program that will successfully educate the public about the parking rules. We need a Harbor Parking Map, a QR scan code that will link to the detailed information to their mobile phone, plus improved wording on signs in the two main public parking areas, and ground labeling for each stall.  
We prefer stenciling, yet reflective 'dots' on the ground could be used initially.
Our goal is a stenciled label on the pavement, indicating the type of stall, for each and every stall. There are THREE types of parking stalls: Paid, Permit, and Recreational. 
PAID: public hourly, and monthly rates, Parking 'receipts' are placed on car dashes. The pay stalls are managed by an agency named "Secure P". 
PERMIT: Boat owners and certain harbor contractors who have monthly permits.
RECREATIONAL: Free 6 hour parking for public recreational use: this includes, surfing, boating, and beach-going.
We want each parking stall to have a ground label, as soon as possible.
The Permit parking areas had this type of stencil 20 years ago, and we need to revive this 'common' and ethical way of communicating with drivers. 
We also would like to initiate the immediate record keeping regarding the number of vehicles towed per day. Currently, DOBOR administrators state that they do not receive this information from their contracted Towing Vendor. The only way administrators and the public will know the extent of the problem, and the effectiveness of the interventions, is to start daily documentation of the number and type of tows that happen at the Ala Wai Small Boat Harbor. 
Thank you to all the petition signers, all the State DOBOR Administrative staff, and the new contractor 'Secure P' for working together to provide ocean access for the public by providing safe, cost effective parking.
Petition Link: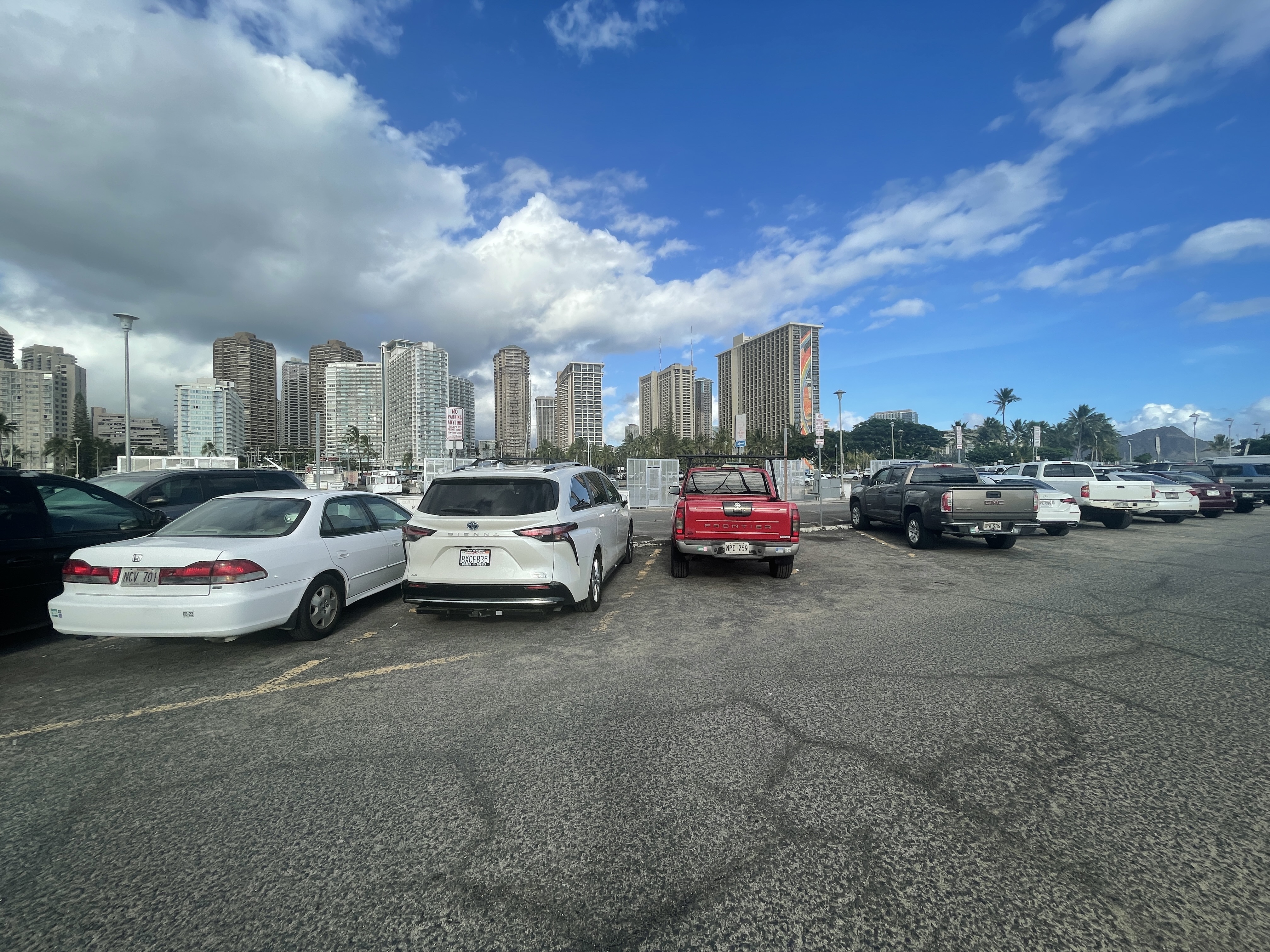 The parking stall next to the red truck it for Boat Owners only. Can you tell?
At night the yellow lines are nearly impossible to see. We need raised "dot" pavement markers in this area. 
0 have signed. Let's get to 200!
At 200 signatures, this petition is more likely to be featured in recommendations!
---
---