Aaliyah's Induction To The Rock & Roll Hall of Fame.
Aaliyah's Induction To The Rock & Roll Hall of Fame.
7,910 have signed. Let's get to 10,000!
---
Petition to
President Greg S. Harris
and
Why this petition matters
More than 20 years after her tragic death, Aaliyah's presence and influence is still being felt throughout the world of music, fashion, film and pop culture. As Aaliyah once stated in her 2001 episode of MTV Diary, she wanted to be remembered as a full-on entertainer and someone who did it all; which is exactly what she did within her 7-year career.

All of her studio albums ("Age Ain't Nothing But A Number"-1994, "One In A Million"-1996, "Aaliyah"-2001) achieved multi-platinum status along with multiple hit singles, awards and millions of records sold during her lifetime.

Not to mention, being a musical pioneer and game-changer from her debut in 1994 to even now after her passing. Aaliyah broke barriers, ground & records within her music and still continues to influence many acts within the R&B, pop & hip hop landscape. Everyone from Beyoncé, Rihanna & Drake to Normani, Billie Eilish, Ariana Grande & The Weeknd among many other popular artists whom all have credited Aaliyah as a source of inspiration to their music and careers.

As a legion of loyal and dedicated fans, many of Aaliyah's posthumous tributes and accolades over the years have come to fruition due to our hard work, diligence and patience. Aaliyah being inducted into the Rock & Roll Hall of Fame would not only be fitting for a musical legend but well-deserved for someone who is still influencing a new generation of artists and musicians with her innovative body of work that stands the test of time to this very day. If you feel that Aaliyah deserves to be amongst the musical legends whom are inductees on the Rock & Roll Hall of Fame, please sign the petition and spread the word! 

Lastly, use these hashtags when sharing the petition throughout social media: #Aaliyah4RockHall #InductAaliyah #GiveAaliyahALLOfHerThings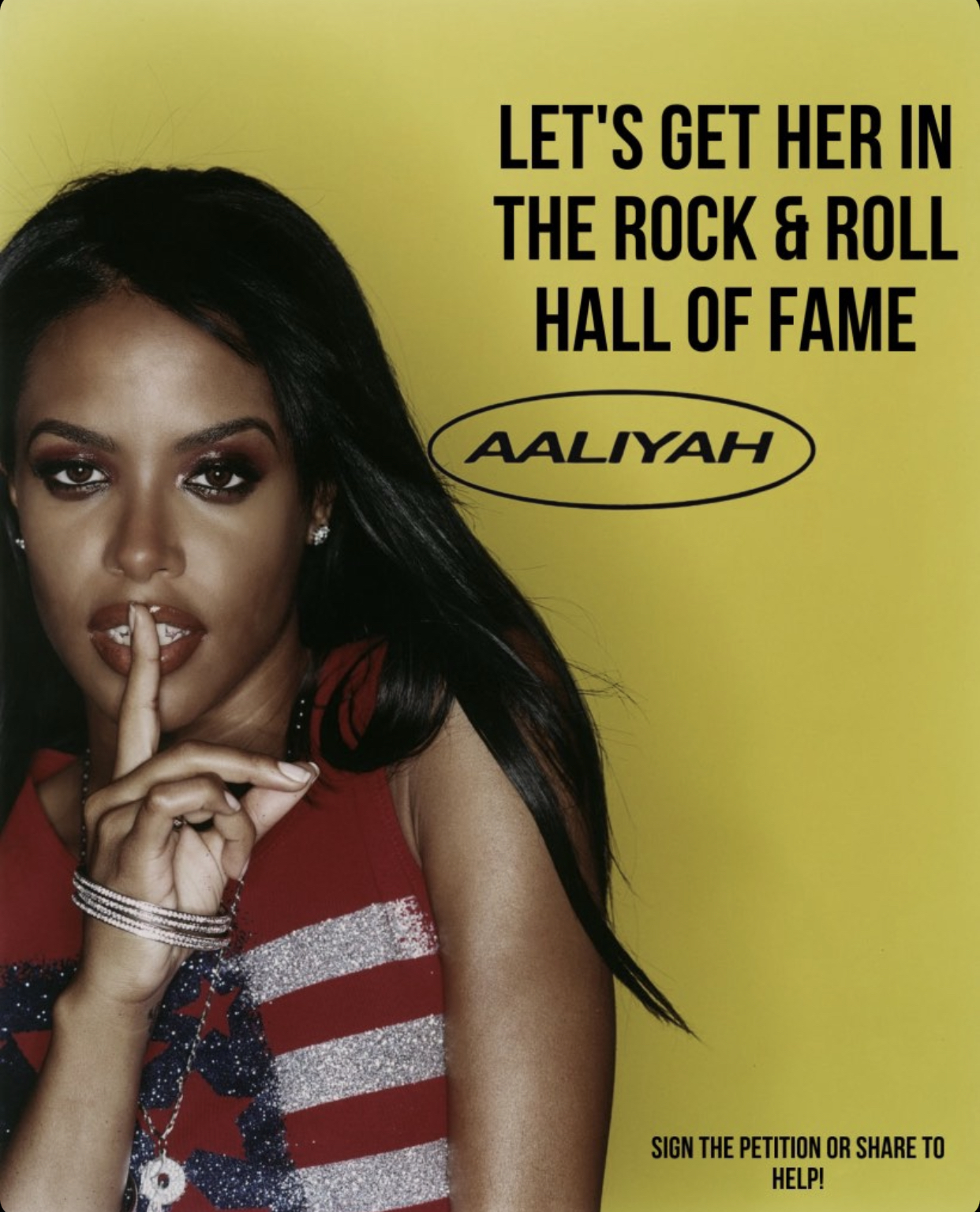 Give Aaliyah ALL Of Her Things.
7,910 have signed. Let's get to 10,000!
---
---