Restore the Vancouver Island Railway for citizens, tourism, and Freight!
Restore the Vancouver Island Railway for citizens, tourism, and Freight!
Petition to
Pablo Rodriguez (Federal Minister of Transport Canada)
and
1 other
Signatures: 6,518
Next Goal: 7,500
71 people signed this week
Why this petition matters
Vancouver Island needs this railway operational for today and our future.
Imagine rolling on a train and seeing views like the one above while travelling between Vancouver Island cities and towns, going around Mountains, through Valleys, over wetland bridges and huge trestles, all away from traffic and congestion.
The Island Corridor connects the island from Victoria B.C. through Esquimalt, View Royal, Colwood, Langford, Malahat, Shawnigan Lake, Duncan, Chemainus, Ladysmith, Nanaimo, Parksville, to Courtenay. And from Parksville to Port Alberni creating a West-East Iron highway between Deep Sea Ports.
Myself and over 900,000 islanders would be eternally grateful if you would sign the House of Commons Petition House of Commons Petition, otherwise, there is plenty of information for your viewing below.  I will be updating people from time to time from the "Provide an update to supporters" button on this platform.
While the B.C. Government exerts it's powers under the Housing supply act to create more homes, Vancouver Island highways are already congested and susceptible to interruption.  We have a railway that runs parallel to Highway 1 and Highway 4 that touches every major city and town on the island from Courtenay and Port Alberni to B.C.'s capital city, Victoria B.C.
We have over 180,000 more citizens than there were in 2011 when Passenger services shut down, enough to stand 1.6 metres apart along the entire 289km railway. 
The loss of the rail corridor will, and is, creating a premature demand to expand highways.  That would end up costing all Canadians and British Columbians an order of magnitude more in taxes because we live on a Mountainous and ecologically sensitive landscape.  All that land is owned, and appropriating property is unpopular, so please
Sign the Petition! 
Vancouver Island is a world-class location winning global awards for tourism and outdoor adventures. The solution to many of the Islands transportation needs is sitting right in front of our noses, the Vancouver Island Corridor.
The B.C. contracted Freight analysis stands on it's own, generating $3-9 Million per year in revenue to start.  In other words, the maintenance of the track moving forward would be taken care of by revenue generated from Freight.  Passenger services riding on top of that would cost the tax payers less than any dedicated passenger only rail system. See the Freight Analysis for more details. Southern Railway of Vancouver Island (SVI) still operating in Nanaimo says it's ready to go! 
Every public survey conducted gleans results between 75% to 86% in support of rail services returning! All the Regional Districts on the Island supported investment in our railway long before passenger services ended in 2011. That includes the Union of BC Municipalities https://www.ubcm.ca/convention-resolutions/resolutions/resolutions-database/island-rail-corridor The owner as of 2006 is the Island Corridor Foundation, a non-profit First Nations and Regional District partnership.  https://www.islandrail.ca/about-us an initiative started by Cowichan Tribes to preserve the corridor.  Something very much needed in 2023.
Please hit that sign button! 
We work, play, live and adventure on an Island Paradise, this is true! 
Canadians and visitors from abroad come here to visit, or tour, or conduct business.  They often end up moving here.  Our roads are a nasty business though, and they would cost Canadians billions upon billions to create a new system of highways on our rocky mountain island.
Why fund this?
Because Vancouver Island needs it's only remaining Right-of-Way to move people and freight, and we clearly need some mitigations for First Nations indicated in the engagement document released by the B.C. Government too!
Vancouver Island is a multiple Global Award-winning tourist destination, cited as a "mini-Canada!" The island is an amazing multicultural wonderland of wildlife and nature and outdoor activities like cycling, mountain biking, walking, hiking, boating, swimming, you name it! We have a completely separate right of way to move Freight and People, why would we give that up?
This is the line between Port Alberni and Parkville that connects to the Duke Point Nanaimo short sea shipping operation.
The mild climate makes it a great place to retire. People want to come here, and they do! Lots of them! 180,000 since 2011 when passenger services shut down. The new islanders could stand along the railway from Port Alberni and Courtenay all the way to Victoria only 1.6 metres apart! 80% of the population, now over 940,000, live within walking, cycling, or e-biking distance, or just a short drive to a terminal park and ride.
The Island Corridor Foundation is asking for $431 Million to restore it because they are trying to keep the startup costs as low as possible, but shouldn't we do this right?  
There should be money for First Nations Mitigations and other enhancements too. 
We need travel and supply security.
Port Alberni was recently cut off from the rest of the island due to a fire, and the Malahat gets shut down regularly. Moving supplies and people is critical for the economy.
Here's a few enlightening videos:
Vancouver Island Economic Alliance

Port Alberni's Plans
If you agree, please sign the Petition and let's get this island treasure restored right!
We deserve this!
Trillions of dollars have been spent across Canada on railways since 2011! The Federal and Provincial Government's both should be happy to get away with only funding $1 billion for 289km of railway on the island when TransLink was handed $491 Million just after the 14 March 2023 deadline.
The Government is spending $6.8 Billion in Vancouver's SkyTrain alone at this time, while we have 1/5th of B.C's entire population living here and zero dollars allocated! 1/40th of the Canadian Population lives here, and everyone including Vancouverites vacation here!
Listen to Chief Councillor John Jack of the Huu-ay-aht First Nations and Alberni-Clayoquot Regional District talk about what the railway means for the island.
Frequent Malahat closures are costing Vancouver Island businesses millions of dollars and negatively impacting people's lives. Wild Fires cut Port Alberni off from the rest of the island with no alternate route but a 4x4 backroad, yet there is an existing railway that connects from Port Alberni to Parksville on the other side of Cameron Lake! Traffic congestion will get worse and worse up and down the island as the population is expected to expand to 1 million by 2030.
The connection between Port Alberni and the Port of Nanaimo would move freight to and from Asia, Africa, and Mexico to Canada, connecting to the mainland via DP Nanaimo's short-sea shipping to and from the Port of Vancouver.  It is better to create a complete rail system from the start so that freight and passengers can move on the middle to South Island without interruption, for enhancements we know we will need in the future anyway.
We need to use what we have, because if it's lost, it's gone for good!   Sign the Petition to tell our leaders to restore the island railway and give us our dues.
The best time to restore and update a railway is when it's not in use!

What better time to set it right than when it is not in use?  The Island could be set up with a modern railway moving people and freight and be set for another 137 years if only our Federal and Provincial Government's would commit funding for it.  The last significant investment made by both levels of government in our railway was around 1905, what other investment has lasted 118 years without some help.  Did you know it is still moving propane in Nanaimo?  SVI operates on the island and knows the cost to restore the corridor.
Maintaining this public asset as a public asset is essential, please sign the Petition.
What about the condition?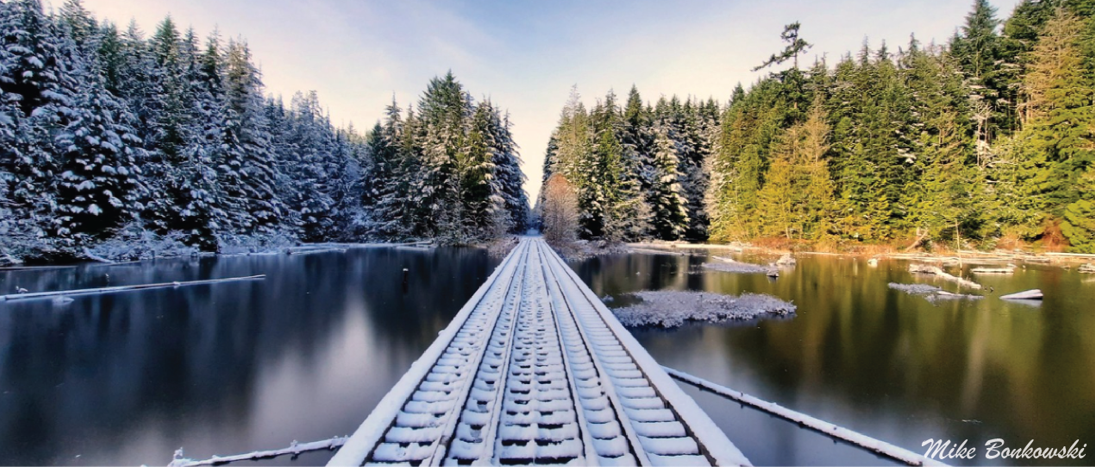 The Vancouver Island Railway Corridor has already had an "all-in" condition assessment conducted by independent contractors that was commissioned by the B.C. Government and released in 2020.
Everything that needs to be done to restore it to operation is known.  That includes track, tie, ballast, bridge, and trestle condition with photos and explanations.
The Island Corridor Foundation used that assessment as a foundation to create the business case we see today, and it has been presented to all levels of local government and all the Nations concerned repeatedly.  The B.C. Government even demanded a 50% contingency fund.
The business case and assessment both had due diligence checks completed since creation, and a very fruitful freight assessment conducted with private industry was released in December 2022.  That shows significant potential for freight revenue, particularly from Port Alberni to the Port of Nanaimo, starting at $3 million per year, growing to $9 million within a few years.  As Island industries pivot to leverage the updated corridor to reduce shipping costs, add logistics resiliency and reduce GHG emissions, the demand on the tracks would increase.
The condition is known and the process to repair it is well known by railway companies including the existing operator moving Freight in Nanaimo, Southern Railway of Vancouver Island (SVI).  For them it's a typical maintenance action.
This replacing rail with a trail business leaves out the removal of the rails, ties, and ballast reclamation, and bridge and trestle repair before the pedestrian top goes on.  It leaves out policing, maintenance and First Nations consultation. 
The Cowichan Tribes started the conversation that created the ICF, let's support the plan that came from that!
Restore Island Rail
Please visit my website for more information at:
https://restoreislandrail.com
Warren Skaalrud is Vancouver Island born and raised citizen
I certify that the petition supporter list will not be shared with anyone and will be disposed of following success or failure of the railway.  Hoping and pushing for success!
71 people signed this week
Signatures: 6,518
Next Goal: 7,500
71 people signed this week
to help others easily find and sign the petition.
---
Decision Makers
---

Pablo Rodriguez

Federal Minister of Transport Canada

---

Rob Fleming

B.C. Minister of Transportation and Infrastructure
---
---
---