Flag Needs Courts! - Please APPROVE the PROSE-Recommended Sports Courts at Bushmaster Park
Flag Needs Courts! - Please APPROVE the PROSE-Recommended Sports Courts at Bushmaster Park
Signatures: 1,215
Next Goal: 1,500
Why this petition matters
Started by 
Flagstaff Pickleball Association
NOTE: The FPA recommends AGAINST donating to this petition. The money does not go to Flagstaff or the FPA. Please share the petition instead.
---Updated Petition April 2023---
Dear Mayor Daggett and the Flagstaff City Council,
We - members of the Flagstaff pickleball, tennis and basketball communities - strongly encourage you to APPROVE the Cooperative Purchase Contract with General Acrylics which will be presented at the May 16th City Council meeting by PROSE staff.
This contract will allow for the design and construction of 8 dedicated pickleball courts and the overlay-resurfacing of the existing dual-striped tennis and basketball courts at Bushmaster Park.
This multi-sport proposal will benefit the large tennis, basketball and pickleball communities in Flagstaff. It is recommended for approval by PROSE and is funded in the current City budget.
It is the culmination of more than 4 years of work by the Parks and Recreation Division to locate, design and fund pickleball courts in Flagstaff. During that time, a number of other proposals have not moved forward. 
PROSE considers Bushmaster Park - a large, community park - the ideal location for these courts due to its undeveloped acreage as well as its additional amenities, including two parking lots, two permanent restrooms and the existing dual-striped courts.
We respectfully ask you to APPROVE this long-awaited project.
Thank you!
Pickleball enthusiasm in Flagstaff... https://photos.google.com/share/AF1QipODe2_ivmjm5mTBeMd1GAEGZ2H9jhCvv_tHVjxvKQoNOcB5OGOz_ljh9IoddYtsIQ/photo/AF1QipPE1HHPwA80MUf0XGcrix54_k1mLIVf-itX1Jag?key=SzY4RmRQa1pONE1CU2dOQjNkbEtQaDhoOUk2TzBR
The busy Bushmaster courts... https://photos.google.com/share/AF1QipO3W1sT0uRnSS8tsWFcEV95KyKrrz4b5tn3fS1e8QEGhbEvX5deVMgVsq_aR0uuvg/photo/AF1QipPKWp-EB3Cd1KKQqzo8Jkgd3qCqOLb-5Ttj8P2o?key=MUNKLTZrMWp6TTlRMVUzYmxPeERLLXhuMEFyU0dB
"Chickleball" - Ladies pickleball - a favorite on Tuesday mornings!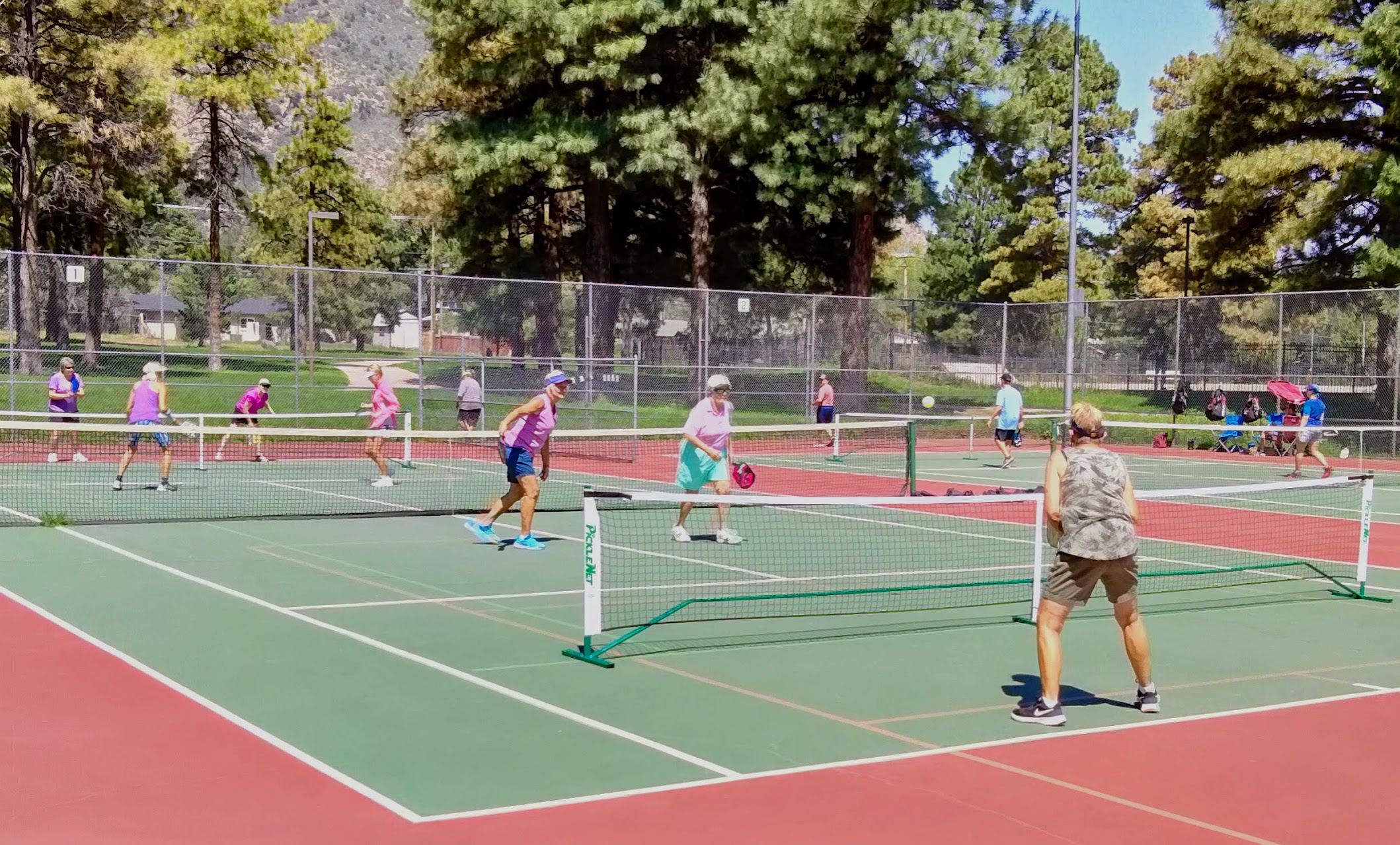 Winter pickleball... 
Sportsmanship...
Lots of nice people...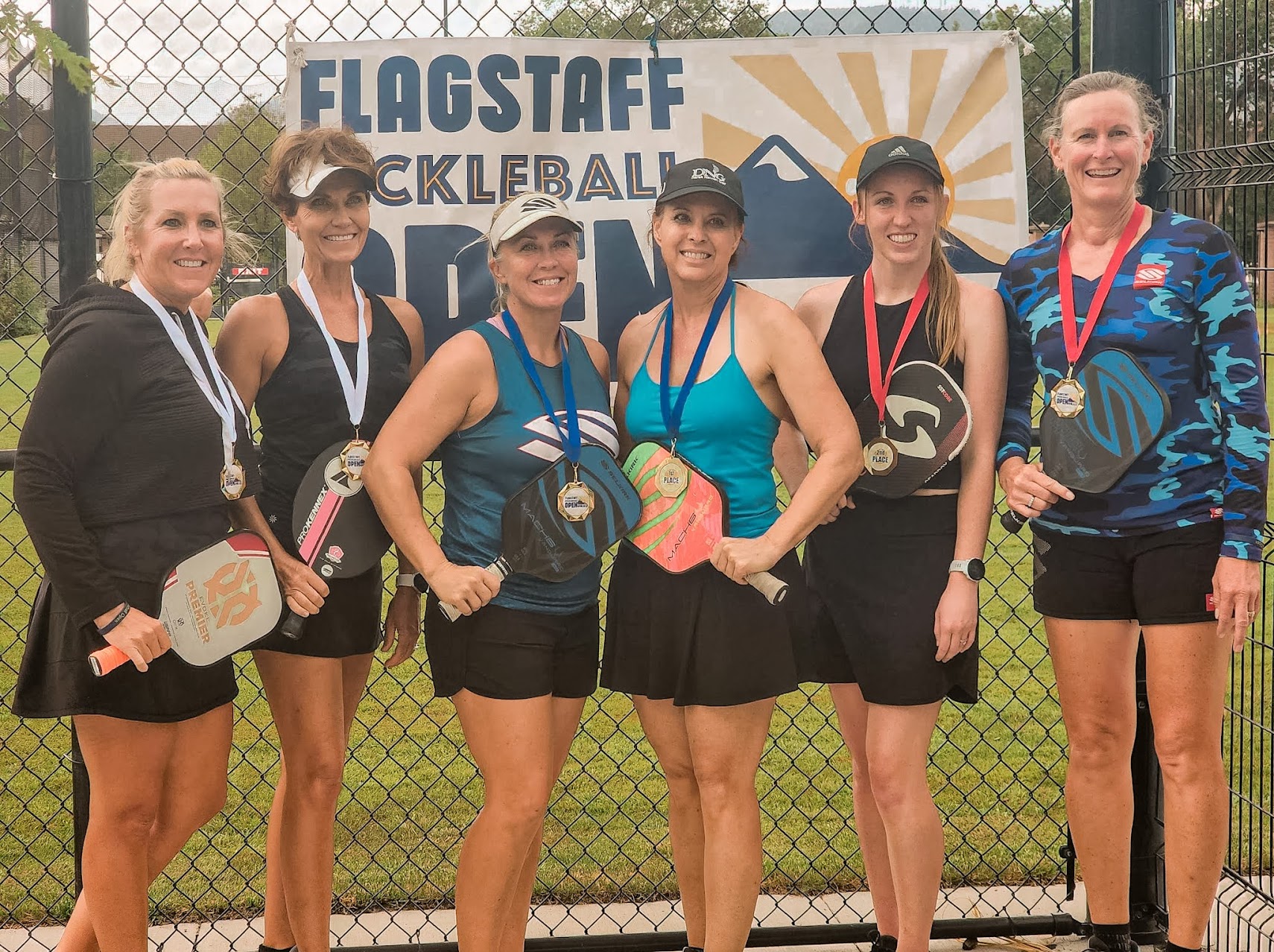 Teaching pickleball...
We welcome you to join the FUN!
https://photos.google.com/u/1/share/AF1QipNEzVWS2cza5mkviME949Yydgw7atgWRUUCQtfdJSR58asfZQBFY6nPqWL7pLGyJw/photo/AF1QipMlr-Kt7GDL8bmBJonjleesfgTBZ6Oe6tcQdeP6?key=Uk1aZzBtTFRqTmdyaWVhU2RDS0JsYTBrUnZkcjNR
---Original Petition 2021---
Dear Mayor Paul Deasy, the Flagstaff City Council, and the Flagstaff Parks and Recreation Commission;
We, the active and rapidly-growing pickleball community, respectfully ask that you prioritize funding and building dedicated pickleball courts in Flagstaff. 
• Flagstaff currently has NO dedicated pickleball courts. [Progress - There are now 2 dedicated pickleball courts in Flagstaff.]
• Flagstaff is significantly behind the rest of Arizona in this regard, with many towns much smaller in size putting in municipal courts. The tiny town of Wickenburg has a complex of 10 dedicated pickleball courts!
• The overwhelming success of the temporary courts at Bushmaster Park demonstrates that when pickleball courts are available, more and more people will play - many taking up the sport for the first time.
• Dedicated courts will significantly increase the public's access to pickleball. The temporary courts at Bushmaster are available only when (1) the courts are not in use by other sports and (2) volunteers are available to set up, take down and secure the nets. [Progress - Semi-permanent nets are now available at Bushmaster Park eliminating the need to have volunteers set up and take down nets.]
• Pickleball courts are an excellent use of community resources and should be prioritized, as the sport can be played by everyone - men, women, boys and girls, including those with disabilities. In Flagstaff, there are active players ranging in age from 8 through 80+. 
• Pickleball courts are an efficient use of park space that require little maintenance.
• Dedicated courts are not only a highly-desirable amenity for residents, but also a sought-after attraction for visitors. The Bushmaster courts are filled with part-time residents and visitors all summer long. Dedicated courts would only increase these numbers and the associated tax revenue would provide a great return on investment for the community.
Thank you for considering this great opportunity for Flagstaff. Please contact FlagstaffPickleballAssociation@yahoo.com for additional information.
Signatures: 1,215
Next Goal: 1,500
---
Decision Makers
---

---

---

Flagstaff Park and Recreation Commission

---

Coconino County Parks and Recreation

---

Flagstaff City Manager Greg Clifton
---
---
---