Keep Playing "The Akron Holy War"
Keep Playing "The Akron Holy War"
Signatures: 485
Next Goal: 500
Why this petition matters
KEEP PLAYING "THE AKRON HOLY WAR"
If you've made it to this page then chances are you probably already know what "The Akron Holy War" is. If not, well it's the high school football rivalry game that happens every season between Archbishop Hoban and St. Vincent-St. Mary, two parochial high schools in Akron, OH separated by barely 3 miles. However, at this moment the game itself is in jeopardy of not being renewed for reasons unknown.
This petition isn't about finger pointing or blaming. 
This petition is to show whomever needs to hear and see it, that "The Akron Holy War" is beyond just a football game. It's a community experience that spans back nearly 70 years and creates generational memories.
The game, the rivalry, the schools, the community, the uniqueness of it, what it means to everyone involved: the players, coaches, students, families, friends and alumni is unmeasurable.  
How do I know? Well... I made a movie about it.
The Akron Holy War, which wouldn't have been possible without the help of a Kickstarter campaign that was funded by many amazing and generous people from "both sides," was released in 2017 and went on to be one of the most streamed indie titles on Amazon Prime Video for 3 years straight.   
I spent a significant amount time in both schools, talking with both sides, hearing the same sentiments echoed over and over again. 
"nothing like it" "incredibly special" "memories that last a lifetime" "absolutely unique" "it IS Akron" "resonates with everyone, not just the teams" "it's just different than anything else out there" "I'm 70 years old and still remember every snap to that game"
To this day I still receive messages from people around the world about how The Akron Holy War (the film) resonates with them in some, way, shape or form, and that speaks volumes for what the city of Akron, St. Vincent-St. Mary and Hoban have here; a rivalry and experience that is incredibly rare and unique in this day and age, driven by passion and pride.
THE GOAL
The goal of the petition is to show exactly what this game and rivalry means to everyone involved that goes way beyond wins and losses. And then maybe, hopefully this gets in front of the decision makers.
SIGN & SHARE
If you believe that this game should continue to be played, please sign the petition and please comment with where you went to school (if applicable) and let "them" know why this game is so important!
Write down a memory, share a story, there's no wrong answers here because "The Akron Holy War" is truly special and one of a kind. 
*My name is Anthony Fanelli, a 2002 graduate of Hoban High School who also had a ton of family members attend St. Vincent's and St. Vincent-St. Mary.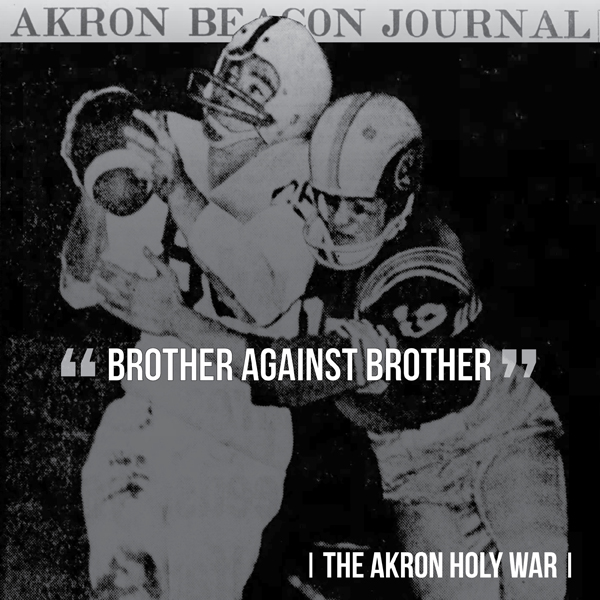 Signatures: 485
Next Goal: 500
---
---