Dr. Daniel Hale Williams Recognition Initative
Dr. Daniel Hale Williams Recognition Initative
Signatures: 26
Next Goal: 50
Why this petition matters
Help to Recognize Dr. Daniel Hale Williams in the Bronzeville/Hyde Park Community!
Provident Hospital is a community hospital which serves the Bronzeville/Hyde Park black and brown patients. The origin of this building was founded by Dr. Daniel Hale Williams. The original Provident Hospital building where this phenomenal pioneer in medicine made his mark by performing the first open heart surgery was recently torn down. The purpose of this petition is to shed light on his accomplishments as an African American and the impact it he had within the community by proposing the erection of a monument to commemorate his memory and legacy.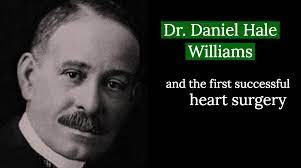 Daniel Hale Williams, An African American doctor, in 1891 who opened Provident Hospital in Chicago Illinois, making it the first medical facility to have an interracial staff. He was also one of the first physicians to successfully complete pericardial surgery on a patient. 
Due to the discrimination of the day, African American citizens were still barred from being admitted to hospitals and Black doctors were refused staff positions. Firmly believing this needed to change, in May 1891, Williams opened Provident Hospital and Training School for Nurses, the nation's first hospital with a nursing and intern program that had a racially integrated staff. 
Signatures: 26
Next Goal: 50
---
---